AFFILIATES
The British Beauty Council would like to thank the following affiliates for their support
Our trade body affiliates
BRITISH ASSOCIATION OF BEAUTY THERAPY AND COSMETOLOGY (BABTAC)
The British Association of Beauty Therapy & Cosmetology (BABTAC) is one of the UK's leading membership organisations and insurance providers for professionals working in the beauty industry.
Originally established in 1977 as a not-for-profit company governed by a board of industry professionals, they campaign for best practice and high standards, supporting and promoting responsible therapists and businesses in our sector, while reinvesting profits for the good of the industry.
The BABTAC logo is a sign of confidence, displayed with pride by our members to reassure clients and the public that they are appropriately 'Qualified, Verified and Insured' and committed to excellence.
BRITISH FASHION COUNCIL
The British Fashion Council nurtures, supports and promotes British fashion talent to a global market. They are committed to developing excellence and growth in a sector that is a significant contributor to the British economy.
They do this through globally recognised events including London Fashion Week and the British Fashion Awards; a designer support pathway that includes NEWGEN and the BFC / Vogue Designer Fashion Fund; and an integrated global communications strategy which embraces creativity and innovation to secure London's and the UK's position as a global leader in fashion.
BRITISH SCIENCE ASSOCIATION
The British Science Association is a royal charter charity seeking to make science part of everyday life and culture for everyone. Currently they know that three-quarters of the UK population doesn't see science as 'for them'. To change this, they run programmes for schools, public and professional audiences including the annual British Science Week campaign.
COSMETIC AND PERFUMERY RETAILERS ASSOCIATION (COPRA)
Founded in 1981, COPRA is a non-profit membership organization set up to provide a focus for the cosmetics and perfume industry. Having fostered the Beauty Industry community during its transition from traditional bricks & mortar retail, towards a multi-channel, online and offline experience.  Copra holds a board of around 18 members who help to inform, educate and decide the award winners. Members benefit from a number of invaluable opportunities inducing meeting and learning from key beauty influencers in the industry. We hold regular meetings and training courses lead by industry experts to provide members with the knowledge and skills to develop customer-focused strategies and stay informed.
CREATIVE INDUSTRIES FEDERATION
The Creative Industries Federation is the membership body which represents, champions and supports the UK's creative industries.
Through our unique network of creative organisations, our influential policy and advocacy work and our extensive, UK-wide events programme we support and celebrate the work of our members.
Our membership network comprises more than 10,000 individuals from creative organisations, businesses and educational institutions throughout the UK.
DEPARTMENT FOR INTERNATIONAL TRADE
The Department for International Trade (DIT) has overall responsibility for promoting UK trade across the world and attracting foreign investment to our economy. It helps businesses export and grow into global markets through their network of overseas posts  and UK-based trade advisers.  To explore the potential of exporting with guidance, services and support from DIT please refer to: www.great.gov.uk .
FACE
We Are Face stands for Fashion Academics Creating Equality. The group is a community and movement of creative and passionate fashion academics of colour and their allies. Co-founded by Andrew Ibi, designer, artist and educator. Currently the MA Fashion Course Director at Kingston University and Pascal Matthias Senior Teaching Fellow at the Winchester School of Art. The group was formed specifically to address issues concerning race, colour, ethnicity and inequalities in higher education, further education and the fashion industry. The aim is to be more inclusive, unified and equal. Whilst at the same time amplify voices, challenge the status quo and embrace change in fashion education.
THE FRAGRANCE FOUNDATION
The Fragrance Foundation UK is a non-profit educational organisation setting standards of excellence for the fragrance industry in the UK.
Their Mission: To expand the appreciation, enjoyment, use and sale of fragrances amongst all people. The Fragrance Foundation is raising the reputation of the fragrance industry having defined and valued the fragrance sector allowing us to attract new talent making this a destination industry to work in.
It brings together not only manufacturers and distributers of fragrances and fragranced products but also their suppliers, retailers, the media, public relations consultants and advertising agencies.
HAIR AND BEAUTY INDUSTRY AUTHORITY (HABIA)
The Hair and Beauty Industry Authority (HABIA) is recognised by government as the Standard Setting Body (SSB) for the hair, beauty, nails, spa and aesthetic sectors.
For more than thirty years Habia has been working with sector experts to develop National Occupational Standards (NOS)  for the hair and beauty sector. NOS specify UK standards of performance that people are expected to achieve in their work, and the knowledge and skills they need to perform effectively. NOS are approved by government regulators and form the basis for qualifications across the United Kingdom.
Habia is a not-for-profit organisation, working with partners across the sector to develop and promote high professional standards to ensure client safety and business success. The Habia logo is a long-established, well recognised sign of high quality standards, excellence and professionalism.
HAIR AND BEAUTY INDUSTRY CONFEDERATION (HABIC)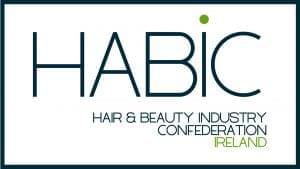 A group of like-minded hair and beauty industry professionals have joined forces to create what is now known as the "Hair and Beauty Industry Confederation" or "HABIC" for short.
This organisation is working towards supporting and enhancing the continued development of the beauty and hair sector in Ireland.
HAIR AND BARBER COUNCIL
The Hair and Barber Council was established in 1964 by the Hairdressers (Registration) Act to maintain, develop and protect the Register of professional hairdressers and barbers and is a Statutory Authority set up by the Act. It is also a not-for-profit organisation.
The Hair and Barber Council's 10,500 plus members represent the largest membership organisation in the hair and barber sector, and covers the full spectrum of the industry from small business owners, salons and their employees, hair and barber professionals to training providers, FE colleges, awarding bodies, and major product manufacturers, all together campaigning to regulate the industry, whilst driving up standards, improving quality and increasing the public's perception of the professional status of hair and barber professionals.
JOINT COUNCIL FOR COSMETIC PRACTITIONERS (JCCP)
The Joint Council for Cosmetic Practitioners (JCCP), was formally launched In February 2018 as a 'self-regulating' body for the non-surgical aesthetics and hair restoration sector in the United Kingdom and has achieved Professional Standards Authority (PSA) recognition and charitable status. The charitable status reflects the overarching not-for-profit mission of the JCCP which is to improve patient safety and public protection.
The concept of the JCCP was envisioned by the Department of Health and was instigated by Health Education England on behalf of NHS England and the Department of Health.
NATIONAL HAIR AND BEAUTY FEDERATION (NHBF)
The National Hair & Beauty Federation (NHBF) is one of the UK's largest trade body for businesses working in the hair, beauty and barbering industries. The NHBF focuses on helping Members to run successful and profitable hair and beauty businesses by providing advice, specialist support and tailored services to meet the unique challenges of running a salon or barbershop.
NATRUE
Founded in 2007 by the pioneers of the sector, NATRUE AISBL (https://www.natrue.org/), the International Natural and Organic Cosmetics Association, is a Brussels-based international non-profit association whose mission is to protect and promote authentic natural and organic cosmetics for the benefit of consumers worldwide. NATRUE's work is divided between advocacy, standardisation and label criteria, and research activities. NATRUE is supported by 70 members from 17 countries worldwide, and the NATRUE label can be found on nearly 7000 independently certified products from over 300 international brands
UK SPA ASSOCIATION (UKSA)
The UK Spa Association (UKSA) founded during 2013 is the official not-for-profit trade body for the nations 8000 spas and salons. It is comprised of members and partners from across the UK spa, salon and wellness sector. It exists to progress the positive contribution made by the spa and salon industry to UK health, social and economic wellbeing, and to drive continuous improvement in quality training, inclusiveness, high standards and professionalism at all levels within the industry. The ambitious long-term goal is to make real impact on the reputation and commercial viability of the industry, at trade, government and consumer level.
VOCATIONAL TRAINING CHARITABLE TRUST (VTCT)
VTCT (Vocational Training Charitable Trust) is a specialist awarding organisation offering vocational and technical qualifications in a range of service sectors (hairdressing and barbering, beauty therapy, complementary therapy, sport and many more). VTCT has over 1,500 approved centres globally, offering smarter support for brighter futures, ensuring the learner is at the heart of their work.
Registered Address
10 Queen Street Place
London, EC4R 1BE
Delivery address
9 Percy Street
London W1T 1DL