Science, technology, engineering and maths – the beauty industry needs to attract graduates from these disciplines. The British Beauty Council is working to raise awareness of the diverse STEM careers our industry offers.
The beauty industry has been revolutionised by scientific innovation. The British Beauty Council and No7 Beauty Company, produced this film to show how all the sciences come together to create a skincare product.
It took about 50 people three years to bring No7 Laboratory Line Reducing Skincare Serum to market.
Smashing stereotypes in science and beauty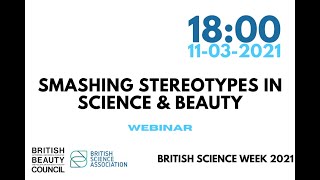 Panel talk exploring how to challenge stereotypes around science and beauty. More universities are offering degrees in cosmetic science and there is a great need for people to join the industry.
This webinar took place during British Beauty Week 2021.
Tackling Misinformation in the Beauty Industry
The No7 Beauty Company has partnered with the British Beauty Council to launch an industry-first influencer skincare education programme to tackle misinformation in the beauty industry.
By invitation only, the Creator Collective will train and upskill influencers by providing world-class 'Science of Skincare' education modules which help to tackle misleading and incorrect content on social platforms and ensure skin-related content is based on scientific truth.
The course content is endorsed by experienced beauty journalists and dermatologists, including leading industry figures Alice Hart-Davis, Dija Ayodele, Alison Young, and Dr. Aamna Adel.
Details on how to sign up to the education programme will be announced later this year. Make sure to follow @britishbeautycouncil and @no7uk on Instagram for updates.